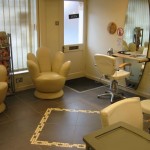 If you are looking for a new hair style that looks spectacular on you or a colouring that complements your eye colour and skin tone then booking an appointment now may be the best thing you do this year!
Since Professional Hair Stylist Philip Mills opened the doors to his modern, elegant and comfortable salon in the heart of southern England located at 49 North Street, Wareham in Dorset;  Philip Mills has rapidly gained a long list of satisfied clients. Garnering over 28 years of experience and multiple awards to his credit. Philips name is synonymous with the highest level of style, sensibility and sophistication. The moment you arrive at Philip Mills Hair Design, you will receive a fantastic greeting by friendly staff and get to enjoy an atmosphere that is both relaxing and comforting. Complimentary Rombouts Coffee or Fruit and Herbal Teas will be provided.
Philip Mills and Lyn Mills provide a wealth of experience that will make your visit to the salon a memborable one.Priding themselves on having the most up to date education in the hair industry and offering modern and contemporary styles. They specialize in hair cutting for all ages and gender, styling, creative coloring, highlighting, scalp treatments, corrective coloring and wedding parties.
In fact here are

5 GOOD REASONS

to make an appointment today
Awarding winning hair treatment – Philip Mills has over 28 years of experience and awards to his name and Lyn has over 10 years of experiencing in technical colourings
Incredible Discounts – Recommend a friend to us and after 3 visits, you will get 50% off your next appointment and your friend will get 10% off. Plus take advantage of our loyalty key card and you can save up to 15% on your visits for an entire year
Luxurious – We make sure your visit with us is one that you won't forget in the best possible way from a comfortable atmosphere, enjoyable music through to first class pampering
Friendly Atmosphere – We listen to your concerns, questions and feedback and then make suggestions
You will look and feel amazing– When you get a hairstyle from us you will make you look and feel spectacular